Morning Fluffers!

Why am I up so early on a Monday morning, when I could be snuggled under my snuggly duvet? Well, it's time for another

Cupcake

of course!!

There is lots going on this week and the girls have created some amazing cards, so be sure to pop on over. Our first faberoony challenge of the year has been chosen by my french friend,

La Chic

and is

White is White

.

I love white on white cards, I think they look fantastic, very elegant and make your image really 'pop' out, so I was really pleased about doing this theme. You will recognise my huffy little minx from Saturday, I coloured two images at the same time, although both very delicately different. I wanted to use a striking pink so she would stand out against all the white.

Whenever I do white on white cards, I always start off all excited, thinking about how great the finished card will look, but something always seems to get lost in translation between FayeWorld and Earth and I end up a little disappointed. No exceptions here, although it has grown on me a little since Saturday! ;)

This week we are sponsored by: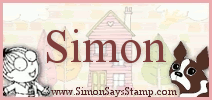 and our monthly Icing on the Cupcake sponsor is Blue Jelly Stampin:




I thought I'd play with some challenges too:



CES Challenge Blog

- Anything Goes

Kaboodle Doodles

- Anything Goes

Paper Sundaes

- Something New (Stamp)

Whoopsi Daisy

- Free and Easy

Catch the Bug

- Anything Goes

Simply Create

- Embossing

Top Tip Tuesday

- Get Embellishing

Crafty Catz

- My choice

of previous challenge; Embossing

Have a great week!