Happy Sundae Fluffers!
The Doc and
Mrs A
are visiting this weekend. Weather permitting, we're going over to the (Blue Lolly) Park. There's a Fire Engine Display thing on, which Sweet Cheeks will certainly luuurve. We saw a Fire Engine the other week and Sweet Cheeks stood next to it, rooted to the pavement in awe. The rather nice Fireman (Total Man Candy) behind the wheel asked me if I wanted him to flash the lights for us. Did I mention Eye Candy? My Blood Pressure certainly went up and I was in need of being extinguished myself! We were both smiling when we eventually walked away! ;)
The new Challenge over at
Paper Sundaes
is
Easel Cards
and we're sponsored by: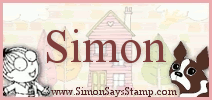 Pop over to
Paper Sundaes
to see the gorgeous creations from the Sundae Girls and for all the stash details.
I love the sea, so really enjoyed making this card with a not yet released stamp from
Rainbow Studios
. I'm lucky enough to have a few of these, so watch out for more Sea Inspired cards in the next few posts!
I may have smuggled some new Perfect Pearls Mists through Baggage Control this week. I really wanted to squirt this image with some, to look like sea spray, but was a little nervous about doing it. There are certain things that you can add to a card and if it goes wrong, that's it, Game Over. Stitching, Staples (that said, you wouldn't know there are dodgy staples on last Mondays Cupcake card, because I was able to cover it with a red triangle design feature!) and Squirty Sprays to name a few. So I was holding my breath a little when I eventually got the guts to possibly ruin an image. Thankfully, it worked and Perfect Pearls also washes off kitchen worktops...
Right, I'm off to make myself look like a Yummy Mummy in preparation for our visit to the Park. I need film star make up on my nose to disguise the 'I've been blowing it for days red'.
Recipe
Cardstock: Stampin Up!
Papers: A Good Life; Forever Friends
Image: Seaside Range coming soon from Rainbow Studios
Colouring: SU! Inks and Waterbrush, Status; Missed you
Other: Perfect Pearls Mist, Sand, Shells and Twine from Stash