Morning Fluffers! I thought I'd share the card I made for the new challenge over at: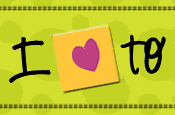 This month, Debs has chosen, no, not rainbows, but

Spots and Stripes

. Simples right? Not for me. I got in a bit of a pickle when the totally brilliant in my head idea, involving red stripes, black spots and some flowers turned out to look totally nafftastic in real life. At which point, Mojo declared a National Bank Holiday and firmly refused to do anything other than shake his coktail glass at me! Humph.
One sleepless night and a lot of holding papers and images together later, I dispatched Very Undersatnding Hubby and Sweets Cheeks off to the soft play centre, with destructions not to return until the hefty packed lunch ran out. And this is what I came up with, evidence of Copic love included!
Don't forget, you need to use a Funky Hand product to play along at Get Funky, but don't worry if you don't have any, as each month, Anice creates a fab freebie.
I'm going to enter this card at:
Stamp Something - April Showers

Cute Card Thursday - Weather Inspired

Totally Papercrafts - Springtime

Creative Card Crew - Spring

Stamp With Fun - Sketch
Recipe
Papers: April Freebie, Funky Hand
Image: Craft The Year Away CD Rom, Funky Hand
Sentiment: Computer generated
Colouring: I love you Copics
Tools: Flower Trio, Dei-Namics
Other: Button, Pearls & Twine from stash