Morning Fluffers! Is it Wednesday and the end of March already?! What on earth happened?! I'm really excited this morning, as it's my first post over at: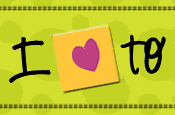 This month, Lovely Loopy Lou has chosen Zing into Spring. Spring is my fav season so I was quite happy with this one. Anice made this gorgeous freebie floral paper, which I instantly loved and knew I wanted to play with. Isn't it gorgeous? I love the colours and the mahoosive flowers! After that, things didn't quite go according to plan and I had a bit of trouble. I think it took about three sittings (of choklit) to get to this point, but hey-ho, it's not too bad.

You have until 14 April to play along with this challenge, so there's still plenty of time. You'll need to use a Funky product somewhere on your creation, but don't forget about the freebie download if you don't have one. The rest of the Funkettes have made lovely projects, hop on over to take a look, there are new creations every couple of days.

Cardstock: Stampin Up!
Papers:
Funky Hand Zing into Spring freebie
and
Funky Hand Rainbow Polkadots
Tools; Nesties and Quickutz Polkadots Embossing folder

Other: Ribbon and Button from (extensive) stash